Management Dynamics| 2021CEGA decision-making meeting convened Chen Yimei and An Yaqiang were both elected as co-chairman of the second term of CEGA
Release Time:2021-05-11 Views:
4

Second

2021 Decision Committee Membership Meeting of China Environmental Grantmakers Alliance (CEGA) was held online in the morning of March 19.

This meeting is of special significance. CEGA has been established for three years. In accordance with the statutes of CEGA, this meeting held the election of the new president. The meeting was moderated by Zhang Ruiying, Executive Director of CEGA. Zhang Li, Co-chair of CEGA and Secretary General of Beijing Entrepreneurs Environmental Protection Foundation, Lei Yongsheng, Co-chair of CEGA and President of Laoniu Foundation, and Cheng Gang, President of the Foundation Center Network delivered speeches respectively.


Zhang Li reviewed the work of CEGA and pointed out that CEGA has gained a certain influence both domestically and internationally in the past three years, which has pushed the overall image of China's environmental donors to a new level. Lei Yongsheng said that CEGA was founded without any political and economic resources, and it was not easy to achieve what it is today. As a founder and advocate of CEGA, he will continue to support the work of CEGA in the future. The two chairmen would like to extend their special thanks to all the policy-making committees for their support and the work of the secretariat. They also want to extend their special thanks to Cheng Gang, President of CEGA, for his support to the operation of CEGA and also invite Cheng Gang to join the decision-making committee. Cheng Gang said that as the supporting organization of CEGA, the CFC Network is also very happy to see the development and achievements of CEGA, and will pay more attention to and support CEGA's work in the future to ensure the smooth operation of CEGA.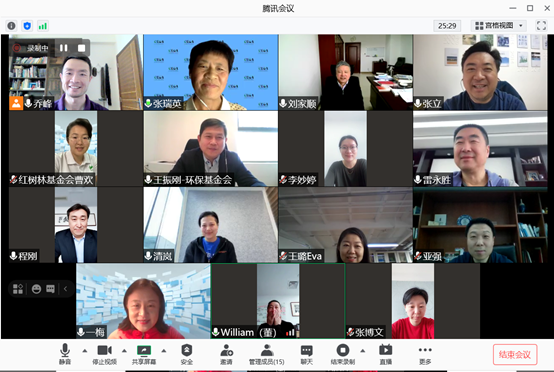 Zhang Li, Lei Yongsheng co-chaired the general election link. First of all, the two chairmen shared their experience of the CEGA presidency. They believed that it is an honor and a responsibility to serve the CEGA with dedication. The two chairmen said they would not serve another term, leaving the opportunity for everyone to make contributions to CEGA. After discussion and recommendation, Chen Yimei, Secretary General of Vanke Foundation, and An Yaqiang, Secretary General of Lao Niu Foundation were unanimously elected as the second co-chairmen of CEGA.
The two new Chairmen spoke to express their appreciation for your confidence and their willingness to do their best for CEGA. An Yaqiang said that as the new chairman, he would like to make more contributions, first to do CEGA issues better, build more attraction and influence, and then gradually expand the membership scope. Stay flexible to meet challenges. Chen Yimei said that CEGA is an innovative way of working in the field of philanthropy and sustainable development in China, and she was personally curious about it. As the next chairman, she is particularly willing to explore with you and hope to work out a three-year work plan and a long-term plan in terms of funds for CEGA.
The meeting approved 2020 CEGA annual work report and 2021 annual work plan, and discussed the construction of CEGA environmental public welfare information platform and the principle of inviting new members, etc.

The meeting also reviewed the purpose and culture of CEGA, and shared practical feelings on the "integration, joint construction and sharing" of CEGA culture. Everyone was full of expectation and enthusiasm for further development of CEGA under the leadership of the second president. The meeting ended successfully in a happy and peaceful atmosphere.